A proposal prepared by Chinese scientists to list the Mangshan pit viper (Protobothrops mangshanensis) in CITES Appendix II was adopted by the Sixteenth Meeting of Conference of the Parties of CITES
Date: 2013-04-07 
Mangshan pit viper (Protobothrops mangshanensis) is of large body size, adult pit viper is more than 2 m long and weighs up to 4 kilograms. Its venom is of extreme toxicity. The pit viper is mainly nocturnal and arboreal. It moves slowly and mainly preys on small birds and rodents with a lethal injection of venom. This pit viper was not discovered until 1990's. However, pit viper soon became a new star in the international reptile pet market due to its large body size, extreme poisonous venom, greenish body color and large patch on its body. Exotic snake keepers would pay a big sum of money to buy a Mangshan pit viper. It was said that the first pit viper was sold to outside China for a million US dollar. Now the pit viper is still sold for a price as high as 1000 US dollar per kilogram. Mangshan pit viper inhabits in an area of only 105 km2 of subtropical forests around Mt. Mang in southern China. It is estimated 3-5 pit viper per square kilometer. Late 1980s a worker of the Mangshan Forest Farm was bit by a strange large snake, which was not seen before. Until four years later, the first Mangshan pit viper was capture and sent to Chengdu Institute of Biology, Chinese Academy of Science (CAS) for identification. Professor Zhao Ermi described and named the type specimen as Trimeresurus mangshanensis. Recently, Guo et al. (2007) studied the phylogeny of Asian pit vipers with molecular markers in addition to morphological comparison. They reclassified the Mangshan pit viper as Protobothrops mangshanensis. Since its discovery, Mangshan pit viper has been shipped to Germany, USA, Singapore, Hang Kong and Russia. Due to the mounting demand of international trade, the survival of the Mangshan pit viper is threatened.
Convention on International Trade in Endangered Species of Wild Fauna and Flora (CITES) is an international treaty for control illegal wildlife trade to protect those species of wild fauna and flora threatened by international trade. Now, 178 countries ratified CITES. China becomes a party of CITES in 1981. The national CITES Management Authority of China is the General Management Office of Import and Export of Endangered Species of Wild Fauna and Flora which is affiliated to National Forestry Administration, the Endangered Species Scientific Commission (ESSC) which is affiliated to Chinese Academy of Sciences is national CITES Scientific Authority of China.
Every three years, CITES holds a Conference of the Parties, the 16th meeting of the Conference of the Parties (CITES CoP 16) was held in Queen Sirikit International Convention Center, Bangkok, Thailand from March 3, to 14, 2013. Mr. Achim Steiner, United Nations Under-Secretary and Executive Director of the United Nations Environment Programme (UNEP) delivered a speech and Prime Minister of Thailand delivered the Opening Statement at the opening ceremony of CITES CoP 16. The Chinese delegation to CITES CoP 16 was led by Mr. Zhang Jianlong, Deputy General Director of National Forestry Administration. Ministry of Foreign Affair, National Development and Reform Commission, National Custom General, Ministry of Agriculture, Chinese Academy of Sciences and Governments of Hong Kong SAR and Macaw SAR send their delegates. Dr. Jiang Zhigang, Professor of Institute of Zoology, Chinese Academy of Sciences and Executive Director of ESSC, Mr. Cao Jinghua, Deputy Director of International Collaboration of CAS and Deputy Director of ESSC representing the ESSC and CAS in the Chinese delegation.
For protecting the Mangshan pit viper, ESSC has started to lead the Chinese scientists to prepare the national proposal of listing Mangshan pit viper in CITES Appendix II since 2012. With the funding of Knowledge Invention Project, Assessment Resource Status and Endangerment Mechanism of CITES Species, Professor Jiang and Dr. Zeng Yan of ESSC Office, together with Dr Li Jiatang of Chengdu Institute of Biology, CAS, Professor Yang Daode of Central China Forestry Science and Technology University, the staff of Provincial Wildlife Management Bureau and Mangshan Nature Reserve of Hunan Province and Nanling Nature Reserve, Guangdong Province conducted field survey in the habitat of Mangshan pit viper in Mt. Nanling, checked the type specimen in Chengdu Institute of Biology and held consulting meetings with Professor Zhao Ermi, Professor Wang Yuezhao and local experts. They also inspected artificial breeding facilities of Mangshan pit viper in Taoyuan County, Changsha Zoo, Hunan Province and Hefei Wildlife Park, Anhui Province. The draft proposal was circled among the commissioner of ESSC and CITES Management Authority. Finally, the proposal, the only proposal prepared by China alone, was submitted to the CoP 16 by the Chinese Government.  
At CoP 16 of CITES, the proposal of listing Mangshan pit viper in CITES Appendix II was passed by consensus. Now, any trade of Mangshan pit viper should be passed the Non-detrimental Finding of ESSC and obtain an export permit from the China CITES Management Authority. Otherwise, no trade is allowed. Thus, the success of listing Mangshan pit viper in CITES Appendix II will help to curb illegal international trade of the pit viper, provide legal protection to endangered species the first time.
Mangshan pit viper Photo by Jiang Zhigang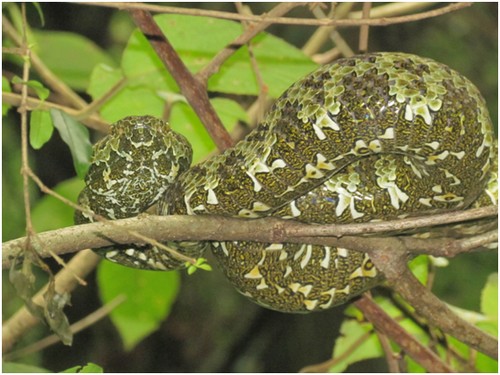 Adult Mangshan pit viper. Photo by Yang Daode.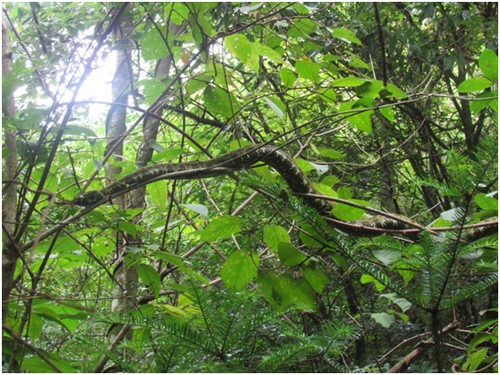 A Mangshan pit viper on a tree. Photo by Yang Daode.